BXNG TV & Mayweather Promotions Presents SIN CITY SHOWDOWN Show Live Stream at 9:30 PM PST. on 12-17-22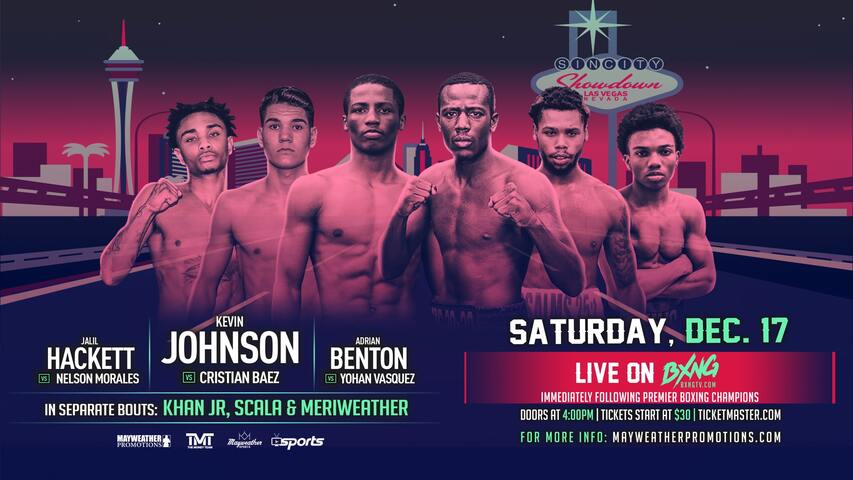 BXNG TV & Mayweather Promotions Presents SIN CITY SHOWDOWN Show Live Stream at 9:30 PM PST. on 12-17-22
Duration 2h, 58m
Mayweather Promotions presents SIN CITY SHOWDOWN live on BXNG TV, Saturday, December 17th from Las Vegas, NV. Tune-in for an action packed night of boxing featuring Kevin "Thunderstorm" Johnson (12-2, 8KOs) vs. Cristian Baez (18-2,17KOs), Adrian Benton (7-0,4KOs) vs. Yohan Vasquez (25-2,20KOs), Micky Scala (6-0,4KOs) vs. Ricardo Villalba (20-6-1,8KOs), PLUS! Jalil Hackett (4-0,3KOs), Dorian Khan Jr.(2-0,2KOs), and Robert Meriweather (2-0,1KO) in separate bouts.

The BXNG livestream is part of a live boxing doubleheader event taking place in Las Vegas, NV. The streamed bouts will begin immediately following the first fight card. Tune-in now to enjoy highlights, full fights, and behind the scenes until the show begins. Some bouts maybe subject to change.
HOW TO PURCHASE
STEP ONE:
Click SIGN IN or JOIN to purchase access
to a live or past recorded event.
STEP TWO:
Watch in browser, or download the
VYRE NETWORK APP available on major devices.
STEP THREE:
Head to the VYRE Sports channel on the
homepage and head to BXNG to enjoy the fight!